Cable Rail Top Railing Choices for Decks, Stairways and Fences
Top rail selection is an important structural and aesthetic consideration for interior and exterior railing projects. Different material types will react uniquely based on levels of exposure. UV and salt exposure as well as the desired architectural style, color and lifespan of the railings are common factors when choosing top railings.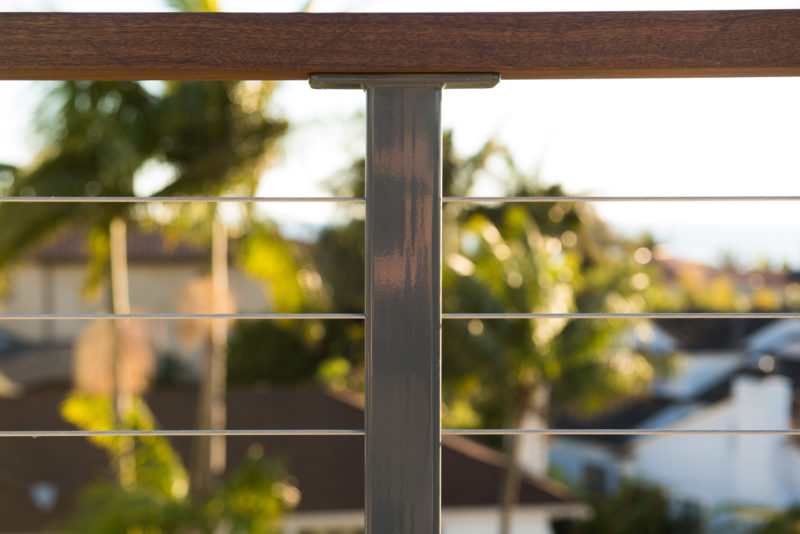 At San Diego Cable Railings we offer a variety of top railings for interior projects and exterior deck, fencing and railing jobs. Our product offerings include wooden, steel, and stainless steel railing choices. Additionally we have provided hybrid top rail combinations and custom railing selections to our customers. (Some railing choices are not available online so please call 844-277-7327 if you have a special request). Popular selections include Ipe' Brazilian hardwood as well as bare finish and powder coated stainless steel top rails. 
Cable railing frames need to be capable of sustaining large tension loads due to the tightening of the cables. For this reason our top choices are extremely hard woods and steel railing members which will sustain tension and also exhibit great durability over time. Based on our field experience and in house testing we have the ability to recommend and provide products to all 50 states. Our experienced sales staff and preferred installers are happy to make recommendations or answer questions based on the unique factors of each project. If you have questions about cable rail top railing selections or any of our products please visit the quote request page.  

View Cart

Product successfully added to your cart.
$60.00

Successfully Added to your Shopping Cart

$116.00

Successfully Added to your Shopping Cart

$156.00

Successfully Added to your Shopping Cart

$280.00

Successfully Added to your Shopping Cart

$360.00

Successfully Added to your Shopping Cart