Grab Rails For Residential and Light Commercial Construction Projects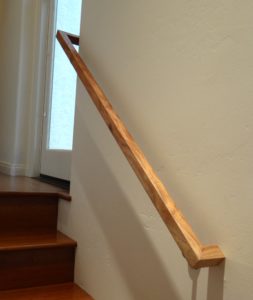 Grab Rails (also called "handrails") are graspable safety rails that can be fabricated using both wooden and steel "dowels" or "bars". Grab Rails can attach directly to walls, bannisters and railing posts by means of brackets or a  welded flange. Most commonly, grab rails will be round or square shaped with eased edges. All  graspable railings should have a minimum outer diameter of 1.25″ and a maximum of 1.875″ so that the rail surface can be easily grasped by users both young and old.
SDCR Recommendation:  1.5″ square or round railing members have been the most commonly utilized diameter for our grab railing projects. (Always check your local codes for sizing and height requirements)
Grab rails are typically attached to walls or to the inside face of railing posts on one or both sides of a stairway.  They are also utilized on ramps and some straight rail applications.  Much like barrier safety rails, graspable rails must be capable of sustaining loads in excess of 200 lbs. As a general rule there should be a minimum 1.5″ space or gap in between the grab rails surface and the wall or railing so that the user can successfully wrap their hand around the rail without hitting the wall.

Height requirements for grab rails typically call for a minimum of 34″ and a maximum of 38″ measured from the top of
the stair tread at the nosing. Finished surfaces should be sanded smooth, and the ends of graspable railings should not project into the opening of a stairway or landing.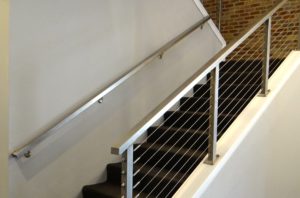 Many of our cable railing projects feature grab rails as a supplement to a stair railing or barrier rail (photo left). We have fashioned graspable railing members from a wide variety of materials and finishes and we provide brackets and mounting hardware to ensure a proper connection. Popular material choices for grab rails include Stainless Steel, Powder Coated Steel,  Vertical Grain Douglas Fir, Mahogany, and Ipe hardwood. Brackets can be provided in bare stainless steel, or powder coated to match railing posts or existing finishes.
Our preferred cable railing installers have performed countless grab rail installations on city and county inspected projects, and our sales staff can assist with material and color choices for your railings. If you have questions or would like to purchase a grab rail, give us a call at 844-277-7327 or visit the SDCR  quote request page.