Our pre-made hardwood cable railing kits are a simple and cost effective option for installing cable railings. Hardwood kits contain pre-drilled posts, top railings, cable assemblies, and bolt up hardware necessary for a DIY or professional installation.
Hardwood cable railing kits are typically furnished using hand selected IPE' (eepaay) timbers and can also be pre-drilled for a specific cable spacing; pre-finished, sanded, stained, or painted. Pre-finishing (sanding, staining, and or painting) is essential to a successful railing project. Pre-finished materials provide ease of install and prevent messes at your home or job site. Ipe hardwood is considered one of the hardest woods on the planet. The color variation and durability of this exotic hardwood timber is unmatched by any other outdoor building material.
As every job has unique factors, the accuracy of information provided via our quote request page is essential to an accurate quote and a successful install. A simple line drawing or even a photo with measurements can be utilized for a railing estimate. Hardwood cable railing kits are a top choice among professional contractors.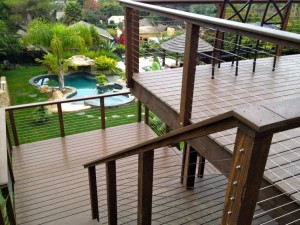 Railing kits can be ready to ship or deliver in as little as 1-2 weeks. San Diego Cable Railings cable railing kits are guaranteed to save you time, money, and provide accuracy for professional quality installations. Exotic hardwood and Stainless Steel framing systems can require longer lead times due to special order and custom fabrication. Please contact 844-277-SDCR (7327) with questions pertaining to cable railing kits.
Individual items contained in railing kits are also available for purchase. Please contact us via the online quote form or the phone number provided if you would like to purchase individual posts or assemblies, or visit the online store. Check back frequently as we are constantly updating.
Call (844) 277-7327 or click here to request a quote.