Powder Coated Cable Railing Kits for Decks, Fences, Stairways, and Interior Railing Applications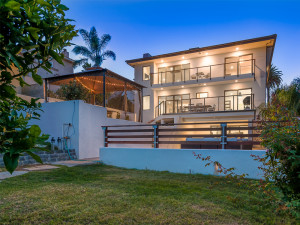 Powder coated cable railing kits are a simple and cost effective option for installing cable railings. Powder coated steel cable railing systems contain pre-drilled posts, top railings, cable assemblies, and all cable and stainless steel hardware necessary for a DIY or professional installation.
Powder coated cable railing kits utilize galvanized steel or stainless steel post options. Stainless Steel Railing Posts combined with hardwood or synthetic top railing options are our most popular coastal cable railings. By utilizing a combination of building materials we can maximize cost savings and create a unique aesthetic. In addition, powder coated cable railing kits are easy to install, and provide safety and beauty. In addition to powder coating we offer bare finishes and metallic coatings.
For coastal and salt spray applications we solely recommend stainless steel railing posts. Utilizing both T304 and T316 stainless steel tube steel these posts are built to last. Welded connections, stainless hardware, and specialty coatings make these railing posts a top choice for even the harshest exposure.
For inland (non salt air environments) or interior applications our galvanized steel post systems provide a better price point and offer the same aesthetics and durability of stainless steel posts. We offer hundreds of colors and metallic finishes to accommodate any desired aesthetic. Clean mill finish (bare stainless) is also a popular choice.
Pre-made cable railing kits can be ready for shipping or delivery in as little as 1-2 weeks. San Diego Cable Railings strong commitment to quality requires purchasing only from US vendors and performing in house quality checks prior to shipping. DIY cable railing kits are guaranteed to save you time and money with accurate pre drilled materials for professional quality installations. Please contact 844-277-SDCR (7327) with questions pertaining to cable railing kits.
Individual items contained in railing kits are also available for purchase. Please contact us via the online quote form or the phone number provided if you would like to purchase individual posts or assemblies, or visit the online store. Check back frequently as we are constantly updating.
Call (844) 277-7327 or click here to request a quote.