You can call
(844) 277-7327

[SDCR] or submit a quote request form to obtain pricing information.

Cable railing quotes can be produced from photographs, a simple line drawing, or a combination of both. Drawings can be emailed to shop@sandiegocablerailings.com; or sent through the quote request link. Please include name and contact information. Drawings should include the following:
• starting and stopping points for each run of cable
• measured distances between each point
• height of desired railing (example 36″ or 42″)
• please note 2 post corners that will be continuous runs, or stops
• total measured cut length
• proposed materials for the railing (steel post, redwood, hardwood, etc.)
• recommended post spacing is 4′
Sample deck layout
Cable Railing Quotes :example A-D illustrates a 3 sided deck railing with 2 90 degree corners at points B and C.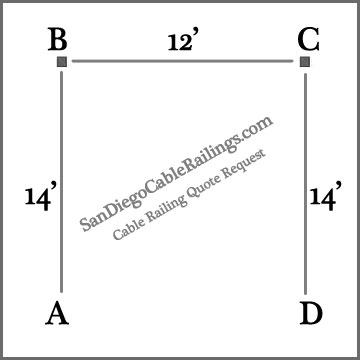 The total cable run is 40ft from point A to point D and can easily be spanned by a single cable with the use of a 2 post corner design
•Point A is the start of the cabling
•Point B is a 2 post corner
•Point C is a 2 post corner
•Point D is where the cable terminates
•Proposed railing height is 42ft
•Proposed railing material is redwood
From this simple line drawing and notes, we can price and design your cable system, recommended post spacing, framing member sizing, and bolt up measurements.
You must include an attachment or the Quote Form will think there's an error.
If you'd just like to send a message without attaching instructions, drawings or a spec sheet   ▸▸  click here
If you would like to send us multiple files of your project, please send to San Diego Cable Railings and attach them all. File size limit depends on your email carrier. Usually between 10-20 MB. A single file can be sent from the upload option below.
* Please Note:
You can call
(844) 277-7327

or submit a quote request form to obtain pricing information.