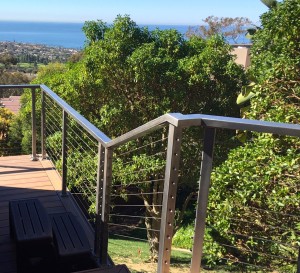 Steel cable railing systems are composed of steel post members, stainless steel cable infill, and a wide variety of top railing materials.
Steel cable railings are a great option for cable railings and fencing. Stainless steel, wood, or hardwood top railings can be effectively used with all of our steel railing post options. Wooden top rails provide a cost effective alternative to steel or stainless steel. SDCR stock railing posts feature galvanized or stainless steel options and can be combined with the durability and aesthetics of standard powder coat colors and specialty coatings. We also offer bare stainless steel posts and top railings. All railing options can be modulated for easy shipping and DIY installation.
Stainless steel Cable Railing Systems are perfect for harsh weather and coastal applications with salt exposure. The strength and durability of steel railing posts is typically superior to that of wooden railing posts. Commercial cable railing systems commonly feature steel posts and steel framed railings are a great option for deck rails, cable fencing, and interior cable railings. San Diego Cable Railings pre made steel posts feature welded mounting plates which provide a superior connection compared to mechanically fastened plates or brackets. Additionally, welded mounting plates mean faster installations and no post assembly, and no separate pieces to attach.
San Diego Cable Railings steel cable railing systems can be made for a variety of specifications and styles providing ample color spectrum and design variations. Cable tension is attained and sustained more consistently with steel railing posts, and typically requires less future adjustment.
At San Diego Cable Railings we can provide cable railing estimates in as little as 24-48 hours. Please visit our Quote Request page or call us at 844-277-7327 (SDCR) if you need assistance or have questions about steel framed cable railings.
Types of steel cable railings:
Powder Coated Stainless Steel
Powder Coating to Steel and Galvanized–Wide Color Variety
Dusted Mill Finish Stainless steel; T304 and T316 Available