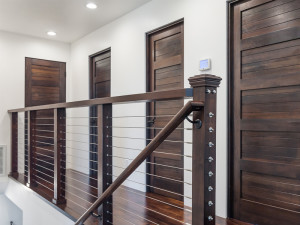 Wood framed cable railing kits are a simple and cost effective option for installing cable railings. Railing kits contain pre made railing posts,  wooden top railings, DIY cable assemblies, and stainless steel hardware necessary for a complete cable railing package.
Wood framed cable railing kits are available in all of our most popular framing media (cedar, redwood, Ipe) and can also be pre-drilled for a specific cable spacing; or pre-finished, sanded, stained, or painted. Pre-finishing (sanding, staining, and or painting) is essential to a successful railing project. Pre-finished materials provide ease of installation and prevent messes and accidents at your home or job site saving money and time.
Pre-drilled railing posts for 1/8″ stainless cable and hardware assure accuracy and ease of installation for DIY cable railings. The accuracy and precision of pre-made railings provide the aesthetics of a professional install. At San Diego Cable Railings we have provided railing kits to countless "do it yourself" and contractor clientele. We can make you a pro.
Wood framed cable railing systems are the most cost effective frames for cable railing. They typically offer a warmer feel than steel framed railings. When properly constructed and maintained, wood framed cable railings will be durable and beautiful at a fraction of the cost of comparable composite and pvc railing options.
Cable rail projects have unique factors, which is why the accuracy of information provided is essential to an accurate quote and a successful install. Please give us a call or use the QUOTE REQUEST page. All wooden timbers are hand selected, purchased locally, and made to order. Wooden cable railing kits are guaranteed to save you time and money. We provide tools and DIY cable assemblies for professional results. Please contact 844-277-SDCR (7327) with questions pertaining to cable railing kits.
Individual items contained in cable railing kits are also available for purchase. Please contact us via the online quote form or the phone number provided if you would like to purchase individual railing posts or cable assemblies, or visit the online store. Check back frequently as we are constantly updating.